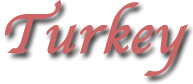 ISTANBUL - EPHESUS - KUSADASI - PAMUKKALE - ANTALYA
8 Days / 7 Nights Package
From $1,295
+ tax ppdo air & land
Book your 2018/19 Groups by Nov 30 save 25%
DAY 1: ISTANBUL: Welcome to Turkey. Arrive in Istanbul Airport, met by your guide and transferred to the 3* Erboy or Ilkay or 4* Arcadia or Yasmak Sultan Hotel. After check into the hotel, meet at the lobby for welcome and info cocktail. Overnight in Istanbul.
DAY 2: ISTANBUL: Our journey begins in Istanbul, the only city in the world situated on two continents.We visit the Topkapi Palace including the Harem, St. Sophia, The Blue Mosque and Hippodrome, where chariot races and the Byzantine riots took place. Dinner and overnight in Istanbul. (B, L, D)
DAY 3: SMYRNA / PERGAMUM: Transfer from hotel to Istanbul A/P for flight to Izmir. Arrival in Izmir. Drive to ancient Smyrna, was the second one of the 7 Christian churches in Asia Minor to which St. John the Divine wrote (Revelation l-11). In the afternoon proceed to Thyatira, another one of the Seven Churches. See the remains of a Basilica and other ruins from the Roman Period. Drive to Pergamum to 3* Berksoy or 4* Movenpic Hotel for overnight. (B, L, D)
DAY 4: PERGAMUM: Pergamum (Bergama). Visit the Acropolis with its pagan temples and Altar of Zeus, the healing center, Aesclepion. Overnight in Pergamum. (B, L, D)
DAY 5: SARDIS / PHILADELPHIA / PAMUKKALE: After breakfast depart for Sardes, another one of the Seven Churches mentioned by St. John. Continue to Philadelphia to, another one of the Christian congregations, and a city built in 2 BC by King Eumenos. Continue to Pamukkale (Hierapolis). Watch the sunset over the petrified waterfalls. Overnight in Pamukkale at 3* Tripolis or 4* Pam Thermal Hotel. (B, L, D)
DAY 6: LEODICEA / EPHESUS: Visit Hierapolis and then Laodicea before continuing to Ephesus. See the final abode of the Virgin Mary where she spent her last years. Tour through ancient Ephesus to see the old synagogue, the theatre where St. Paul preached (Acts 10), the Library of Celsus and more. Overnight in Kusadasi at the 4* Grand Onder Hotel. (B, L, D)
DAY 7: ISTANBUL: Transfer to the airport for the flight to Istanbul. Arrival and transfer to the hotel. Free time in Grand Bazaar in the afternoon,overnight in Istanbul. (B, L, D)
DAY8: HOME: Transfer to Istanbul airport for flight back home.